RBI announced cut in repo rate by 25 basis points to 6% on 2nd August. Recently HDFC Bank, ICICI Bank, PNB, and SBI have cut their savings rate by 50 basis points to 3.5% from 4.0%, the lowest in six years. The cut seemed imminent on the back of large inflows in savings and current accounts during demonetization period in November & December 2016.
Effective return on FD has become nil!
As the fixed deposit rates fall, retirees and other investors who rely heavily on the bank fixed deposits as their income/savings avenue have been hit the most. Bank FD returns are fully taxable too. An investor in the highest income slab, a 7.25 percent return translates into a 5 percent post-tax return. Since inflation is hovering around the same figure, the real return is almost zero. Fixed income products, at best, are merely capital preserving in nature and not meant for wealth creation.
Mutual funds have superior risk-return portfolio
Mutual funds offer a large basket of products for both the risk-averse and risk-seeking investors. For a marginally higher risk, a risk-averse investor can earn significantly higher returns in Debt Mutual Funds (Read more:
www.divitascapital.com/debt-mutual-funds
). Similarly, Equity Mutual Funds can generate a higher marginal rate of return on a marginal increase of risk. Historically well-managed equity mutual funds have generated an annual return in mid-to-high double digits over a long time horizon. While investors face re-investment challenge in fixed deposit instruments, with mutual funds, the money stays invested as long as it gets redeemed.
Choice of products and continuous appraisal is critical to successful wealth planning
There are hundreds of schemes to invest into but there are 3 critical factors that go into the choice of products: 1: Risk appetite, 2: Financial goals and 3: Time horizon. A prudent investment advisor will regularly monitor your portfolio and suggest adjustments according to the changes in the economy and market conditions or to any new developments in your personal life.
Refer to the following illustration as a guide to a risk-return matrix for Equity Mutual Funds: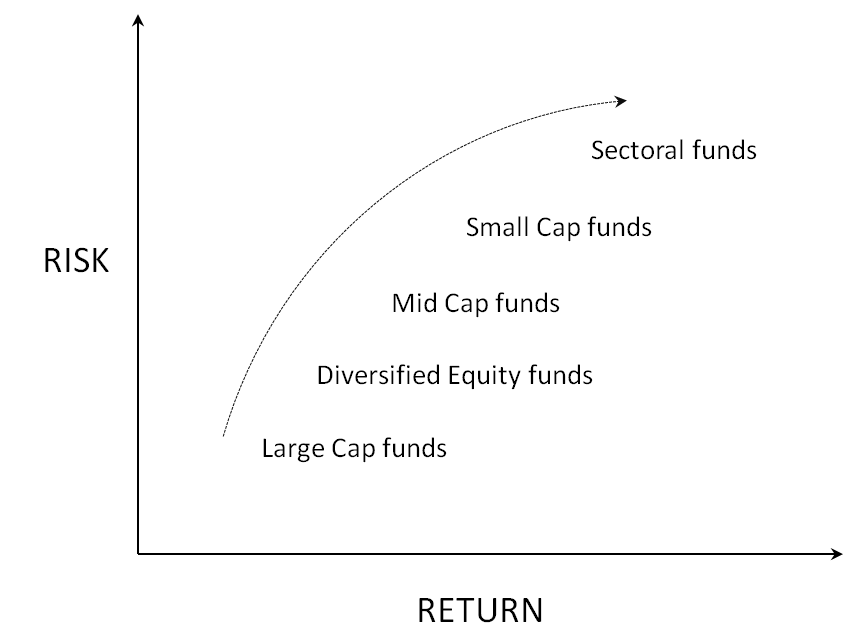 Only for illustration purposes and not to be construed as indicative yields/returns of any MF schemes.